Blue Merlot founders Joshua "Bubba" Murrell and Brenda DeKeyzer Lowry started Blue Merlot in 2001 and went on to win the Louisiana Blues Challenge in 2002. Their Louisiana funk-and-sweetness sound developed into a gumbo mixture of musical styles, with plenty of Louisiana Cajun seasoning. It prompted them to coin the phrase "Gumbo Funk." They're happy with honors bestowed (such as "Best Jazz Band in Acadiana," not to mention Joshua's Grammy award), but the best part is that the music keeps growing.
Brenda DeKeyzer Lowry - Vocals, 12 string guitar
Brenda DeKeyzer Lowry is a classically-trained vocalist who has forged her own voice, influenced by jazz greats such as Billie Holiday and Ella Fitzgerald and diverse artists like Bonnie Raitt, Marcia Ball and Annie Haslam. She is a songwriter, and plays 12 string guitar for Blue Merlot. She also performs with The SweetTones, B & B on the Rock, and the South Louisiana Blues Revue. Brenda endorses Luna Guitars.
Joshua Murrell - keyboards, slide guitar, vocals
Joshua is a Grammy-award winning engineer/producer, winning a Grammy for his work on Terrance Simien's Live! Worldwide CD in the Best Zydeco or Cajun Album Category for 2008. His extensive talents include piano composition and performance, guitar, slide guitar, bass, and every funky skanky organ sound you can imagine (and then some). He plays keyboards and slide guitar for Blue Merlot, and also performs with The SweetTones, B & B on the Rock, and the South Louisiana Blues Revue. Joshua endorses Presonus Audio.
Joshua Murrell & Brenda DeKeyzer Lowry
Ronnie Vice - lead guitar and vocals
Ronnie Vice is a familiar face and voice to thousands of his fans in Louisiana, Mississippi, and beyond. In addition to hosting a regular blues jam for nearly 10 years in south Louisiana, he has toured with the Calico Cats and played with many other Louisiana bands over the span of his career. Ronnie plays guitar and bass, and his lead guitar and vocals are a rich addition to Blue Merlot. Ronnie has released the CD Gumbo Blues and is currently at work on another CD.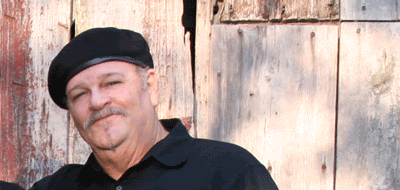 Ronnie Vice
Gerald Romero, Sr. - Bass, vocals
Gerald Romero, Sr. puts the "Funk" in "Gumbo Funk." A bass player with a solid reputation and following, Romero has performed and recorded with the "Godfather of Swamp Pop" Warren Storm, Willie "Tee" Trahan, and other Louisiana artists, including the Fabulous Boogie Kings and Joe Douglas. The Romero Family has deep roots in Louisiana Music, in both promotion (Louisiana Hayride) and retail (Romero Music Company).